Description
Currency
The national currency of Armenia is called "Dram" (the code is AMD). It was put into circulation in 1993. There are banknotes of 1000, 2000, 5000, 10000, 20000, 50000, 100000 Dram denomination. There are also coins of 10, 20, 50, 100, 200, 500 Dram denomination. Foreign currency can be exchanged in banks and currency exchange offices throughout the city. Please visit of the Central Bank of Armenia for concrete exchange rates.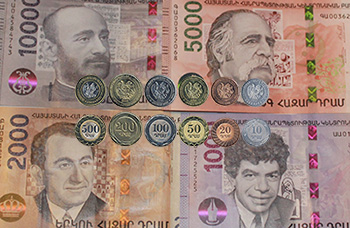 The Armenian banking system consists of 21 commercial banks, the activity of which is controlled by the Central Bank of the Republic of Armenia. The banks are open from 10:00 am to 16:45 on week-days and from 10:00 am to 13:00 on Saturdays, without lunch breaks. The ATMs can be found in all the cities and operate 24 hours a day.
There are local and international Banks in Armenia. Most Banks have an online customer service system and you can be easily assisted online and ask any questions. After choosing a certain bank, mobile banking will also be available and money transfers and payment processes will be greatly facilitated. Most of the banks implement SWIFT transfers and some of them for Non-Account Holders. Note: Armenia is not a member of the IBAN standard, so Armenian banks do not use IBAN.
For more information on the banking system and news on the financial/economic status of Armenia, check the Central Bank of Armenia website, as well as Banks of Armenia.